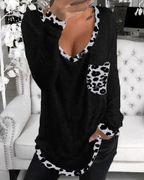 Cheetah Panel Curved Hem Oversized Top
(5)
Return Policy
Discover the latest trends and styles of women's shirts, tops and blouses at irresistible prices. Tailored to fit perfectly, find quality tops for women, button up blouses, tunics, plus size shirts and more.
Shows (2)
@Leslie Fohrenkamm
Black Multi / XL
Love it! The fit is amazing! Sexy and exactly as described!
@Kristy T
Gray Multi / M
I know it was supposed to a loose fitting shirt, I should've Large. Oh well!!
Reviews (5)
Perfect oversized T-shirt and the colour is nice to love it my fav so far
love this shirt! super comfy and soft and fits very well! essential closet piece !
GET IT It's really good quality like AMAZING I feel so good wearing this T-shirt
Absolutely love this top! It definitely is a oversized top but so comfy and fits really well. Definitely recommend ordering it .