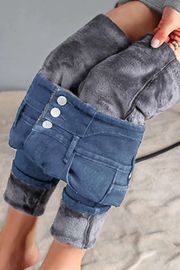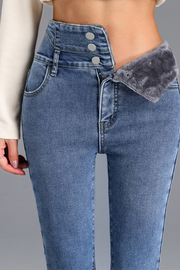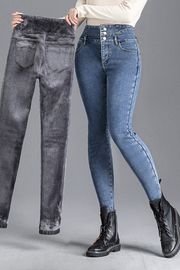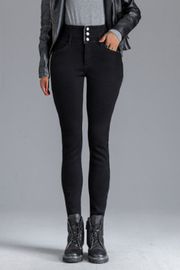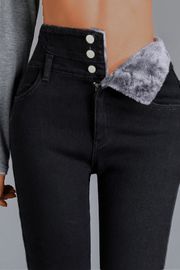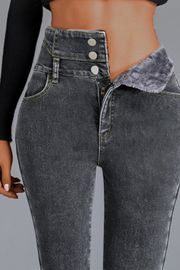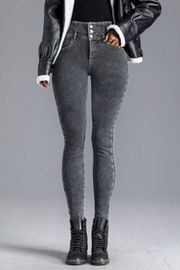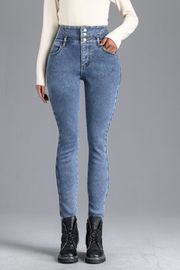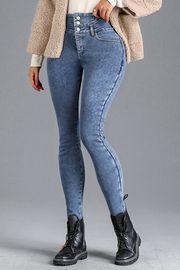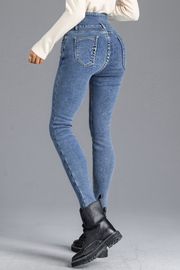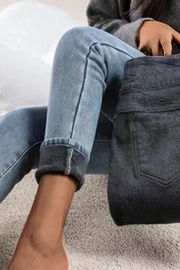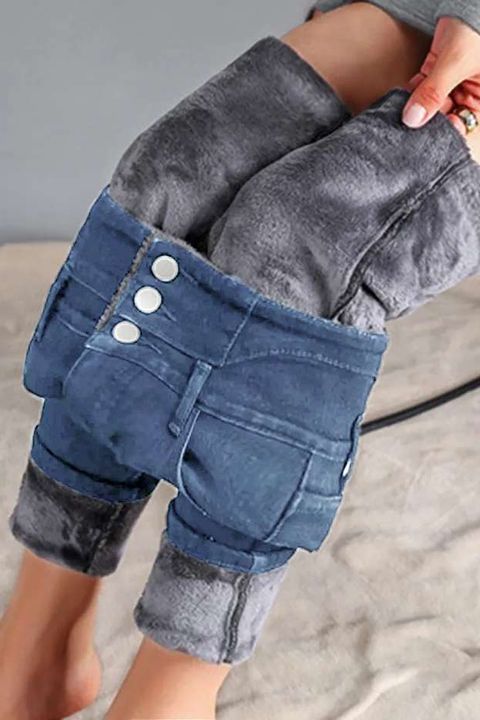 Thermal Lined Button Fly High Waist Skinny Jeans
Material:
80% Cotton, 15% Polyester, 5% Spandex
Details:
Button, Zipper, Pocket
@flamingo
The fit of these jeans were amazing!!!! well worth the money!
@flamingo
The fit of these jeans were amazing!!!! well worth the money!
@flamingo
These jeans are my new favorite!!! They look soooo flattering on me! Love love love!
@flamingo
These jeans are sooo cozy and flattering on. LOVE!
Im 5'7'' 170 lbs with a bootie and I prefer the Large - they're a flattering tight comfortable fit. They're thick, stretchy, warm, good pockets, and fit high enough to hold in my muffin tops. I bought my first pair last winter in XL which became my " outdoor farm chores" pants bc they are looser and not as flattering, but I like my jeans to be fitted and tight. They hold their shape well during the day, I wear them a few times before washing and they dont get any saggy areas. These are my favorite winter jeans. I also have lined Carhartt and LLBean jeans and I like these better than the high end ones.
Wooooow! I just tried one, and... WOOOOOW! This pants are just EXACTLY what I was looking for! To those who say that "flattens your butt", let me tell you, YOUR BUTT IS FLAT already! And to those who say that they're not good looking, just START WORKING OUT!! These pants are not only flattering (yes, they're to the waist), super stretchy, warm, nice... WOOOOOW!!!! I LOOOOOOOOOOVE this pants!!!!
These are really comfortable and warm. I wish I had ordered an XS, but based off reviews I ordered a S. So they bunch at the knee and are a little big in the waist. I'm keeping them because it's nice not having to undo them to go to the restroom (haha). I have ordered another pair in XS though. I'm 5'5" and 122. Most reviews with that height and weight said they ordered small. Everyone is shaped differently so I thought it might be helpful for people to know measurements as well. My waist is 25.5 inches and my thighs are 19.5 inches at the largest point and my hips are 35. Thought this would help incase you're on the fence with size you can measure yourself to see. Small was on the bigger size for me and I am looking forward to getting my XS. All in all though, I'm very pleased with the warmth and comfort. They definitely aren't my American Eagle jeans for style but they are so much warmer and don't look bad. Very nice for winter.
I really liked the fit. I'm 5'4 1/2" and 135 lbs. They are snug which is what I want but still gives me room for an extra in or two. The waist is right at my natural waist which is great and the legs go just below my ankle. Perfect for boots. The lining is soft and warm. These are for warm loving people only, like me who are always cold in the N.E. Great stretch jeans and more than worth the price.